we produce fire pipe according to ASTM A53 standard with UL Approval, thickness according to SCH40 series, size from 1/2inch to 12inch, including welded and seamless types.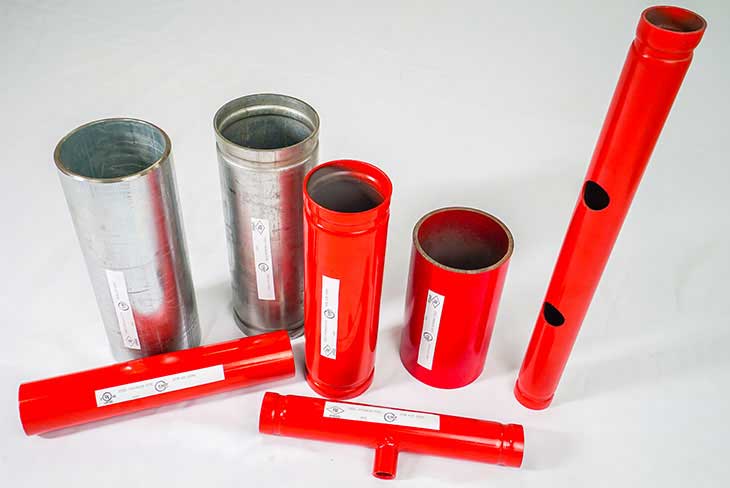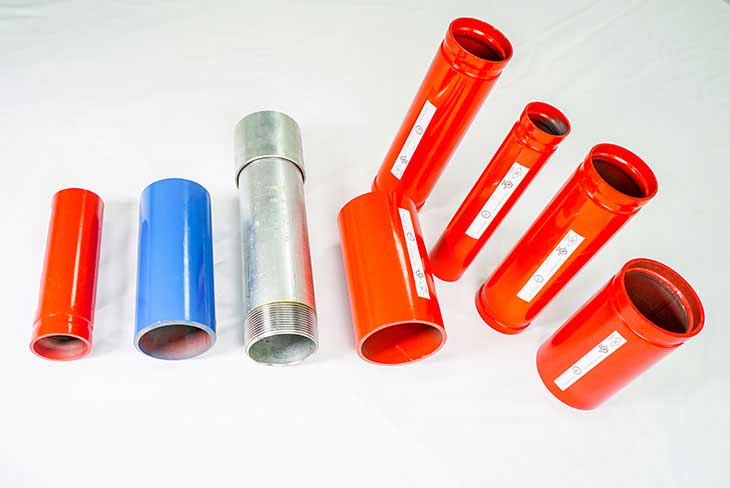 Specifications:
Size: 1/2"(OD: 21.3mm) – 12"(OD:323.9mm)
Wall thickness: 2.77mm – 10.31mm
Length: 19FT(5.8Meters) – 21FT(6.4Meters), or according to customers' special request.
Ends types:
Plain Ends
Beveled Ends
Grooved Ends
Threaded Ends
Flange Welded
Anti-Corrosion types:
Light oiled protection
Powder coated(Color will be according to customers' request)
Hot dipped galvanized
Hot dipped galvanized and Powder coated
We carry out strict quality control throughout the process of production.
Remove the inside welding beads to assure the liquid transportation smoothly.
Make eddy current test on each pipe.
Make water pressure test on each pipe.
All of above measures will assure the pipe quality and make the life more safe.
ERW & SMLS ASTM A53 SCH40 GR.A & GR.B
DN-in.
DN-mm
OD-in.
OD-mm
WT-in.
WT-mm
lb/ft
kg/m
psi-Gr.A
Kpa-Gr.A
psi-Gr.B
Kpa-Gr.B
1/2″
15
0.840
21.3
0.109
2.77
0.85
1.268
700
4800
700
4800
3/4″
20
1.050
26.7
0.113
2.87
1.13
1.685
700
4800
700
4800
1″
25
1.315
33.4
0.133
3.38
1.68
2.501
700
4800
700
4800
1 1/4″
32
1.660
42.2
0.14
3.56
2.28
3.386
1200
8300
1300
9000
1 1/2″
40
1.900
48.3
0.145
3.68
2.73
4.049
1200
8300
1300
9000
2″
50
2.375
60.3
0.154
3.91
3.69
5.442
2300
15900
2500
17200
2 1/2″
65
2.875
73.0
0.203
5.16
5.83
8.630
2500
17200
2500
17200
3″
80
3.500
88.9
0.216
5.49
7.62
11.285
2220
15300
2500
17200
3 1/2″
90
4.000
101.6
0.226
5.74
9.21
13.570
2030
14000
2370
16300
4″
100
4.500
114.3
0.237
6.02
10.91
16.074
1900
13100
2210
15200
5″
125
5.563
141.3
0.258
6.55
14.82
21.775
1670
11500
1950
13400
6″
150
6.625
168.3
0.280
7.11
19.20
28.265
1520
10500
1780
12300
8″
200
8.625
219.1
0.322
8.18
28.58
42.535
1340
9200
1570
10800
10″
250
10.750
273.1
0.365
9.27
40.52
60.306
1220
8400
1430
9900
12″
300
12.750
323.9
0.406
10.31
53.57
79.734
1150
7900
1340
9200